Oct
27
A haunted house from cardboard
Halloween is coming soon and to play with we have painted our Doll House Template painted black and turned it into a haunted house. Suitable materials for your this spooky house are cardboard, plywood or any suitable board material.
YOU NEED:
2 larger pieces of cardboard
Cutter (Attention: Do not let children handle it alone!)
brush
black acrylic paint (non-toxic) or chalkboard paint
Ruler
Pencil
Base for cutting
IT'S THAT SIMPLE:
Step 1:
Print out our Template you can enlarge it as you like, and make a template for you to draw on. We have used as a material of course cardboard, because this is easy to edit. With plywood or other sheet material, you will make the best cut with a saw.
Our cat Ludwig is live at every craft post, checking everything that is lying around here 🙂
Step 2: 
Now draw the outlines and the two bottom parts of your Halloween house on the cardboard surfaces using a pencil and ruler.
So that you can plug the house parts into each other, you sketch a slot for the plug-in system on the cardboard, as on the template. Adjust the size of the slot to the thickness of your material.
Step 3:
Now cut out the house silhouette with the cutter (never let children handle it alone!). Then make the incisions for the slits.
Step 4:
Now comes the most relaxing step in our opinion: painting the cardboard parts with black acrylic paint. A wide bristle brush is best suited.
This house template is also suitable for many other simple DIY dollhouses, but we use black here for the haunted house.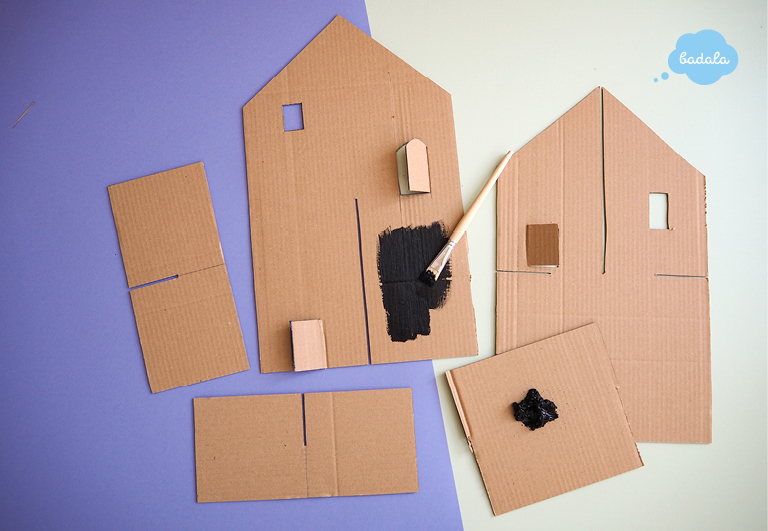 Tip:
As painting bases we always use a cardboard surface of a large box. At the craft cabinet we have a niche where we always store them temporarily.
Place the parts to dry, and then paint the back.
Step 5:
Now you put the parts into each other, and that's it, your haunted house.
No gluing is required and you can take the parts apart and repack them flat.
Your haunted house is ready!
Have fun!