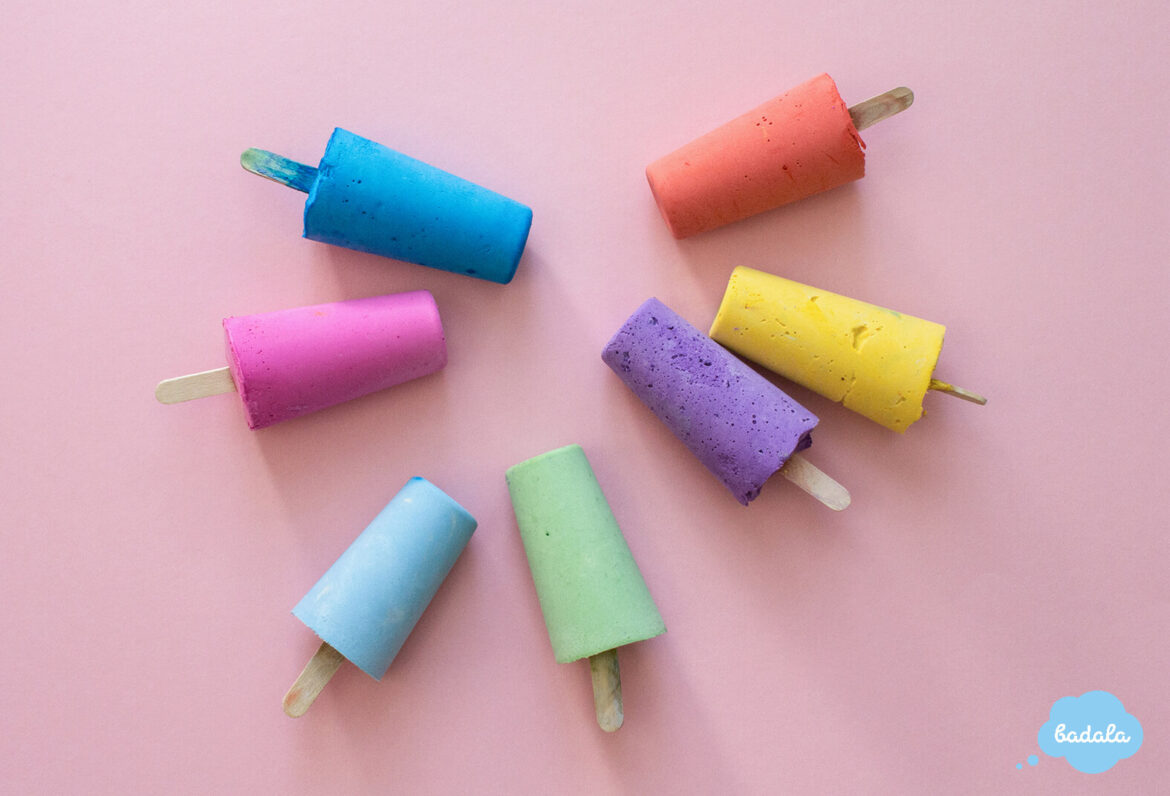 Mar
17
Chalk for sidewalk artworks
With the beautifulwarm weather, the time to be outside has begun and the children want
to be busy during these long spring and summer days.
Here we have prepared chalk that is perfect for games in the park and on the sidewalk - as well as a small gift in party bags for children's birthdays. With the ice stick you have a small handle built in!
The production of the chalk is relatively simple, but makes dirt - so please either old newsprint or a tarpaulin underlay. Since our company is particularly close to the environmental idea, we do not normally use disposable plastic cups, but in this case we found ancient cups in the box and allow us to use them.
The beauty of these chalks is that you can choose the colours yourself and know exactly which ingredients they contain. And they also look great 🙂
You need
- Liquid tempera or school colours
- Gypsum (powder)
- spoons
- mug
- Measuring cup 1/3 cup
- Cold water
- Silicone moulds or ice on a stick Moulds
- ice-cream sticks
- scissors
So simple geht´s
We made four colors, so you need four cups.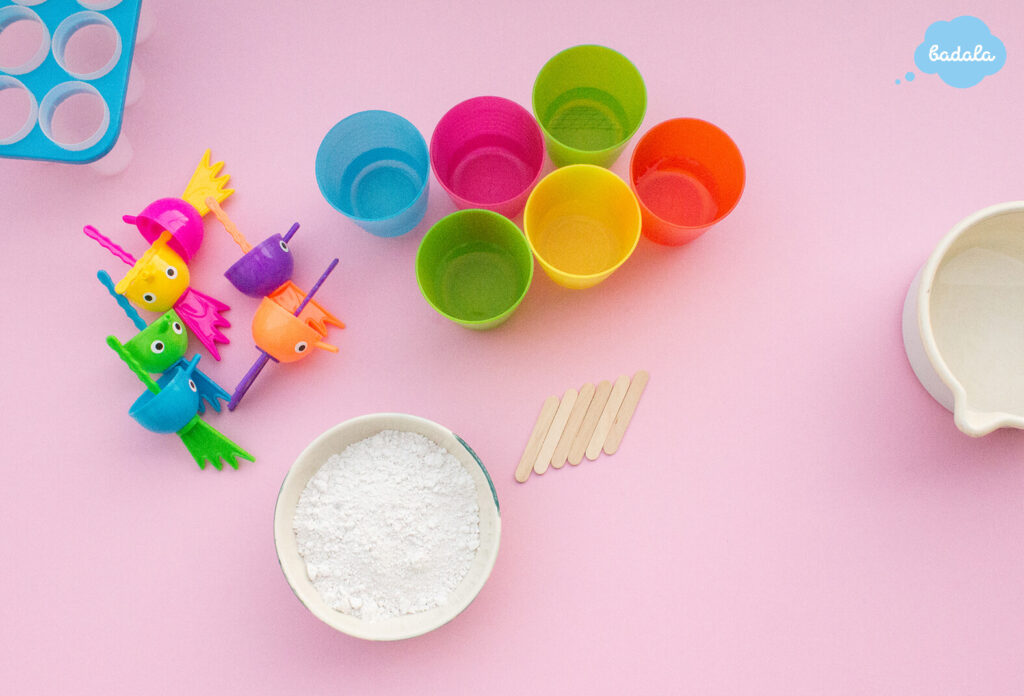 Put 2 tablespoons of one colour each in a cup, add 1/3 cup of water and mix well.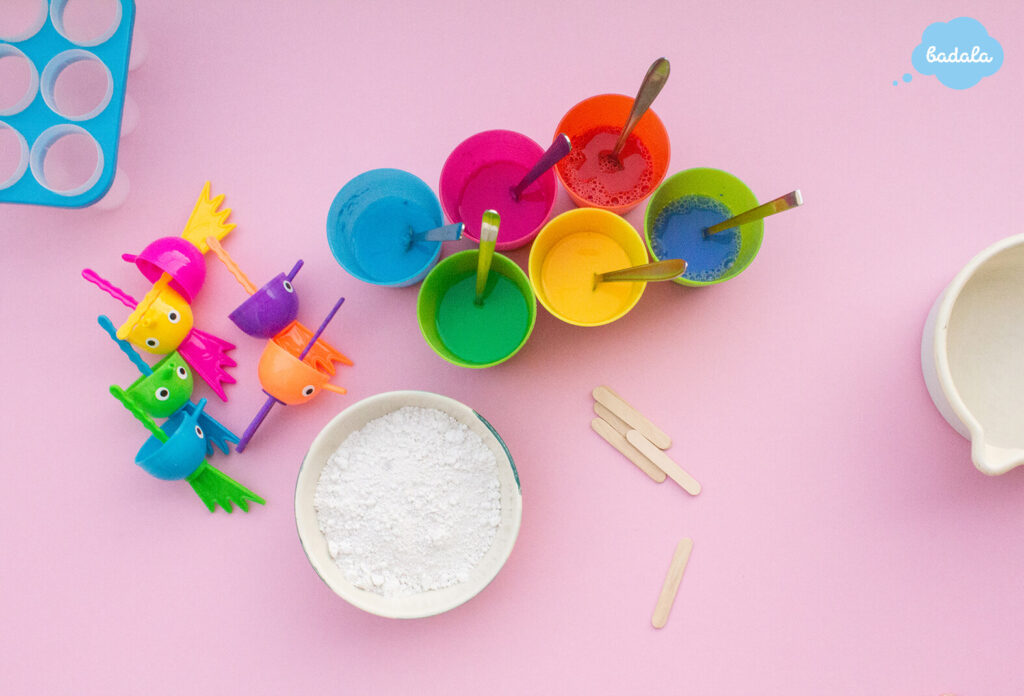 Then add 2/3 cups gypsum powder and stir well again. The consistency should be like quite liquid yoghurt.
Then you must fill the mass into your forms.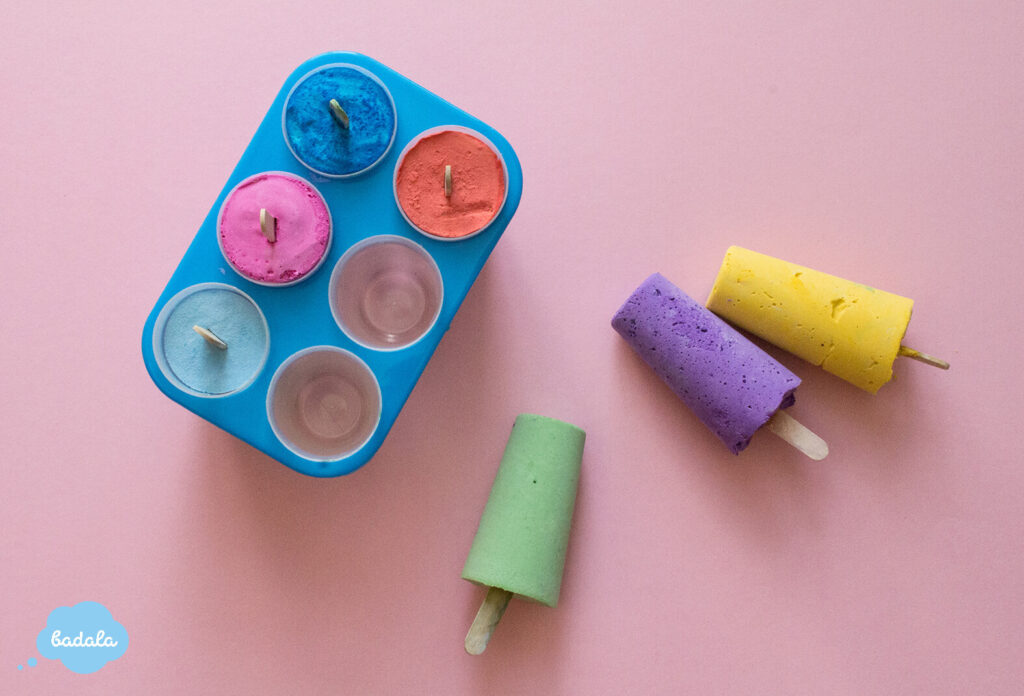 Now cut the ice-cream sticks in half and put one half each into a mould.
The chalks need about 24 hours to dry, preferably in the sun.
As soon as the chalks are well dried, you can start to sign to your heart's content.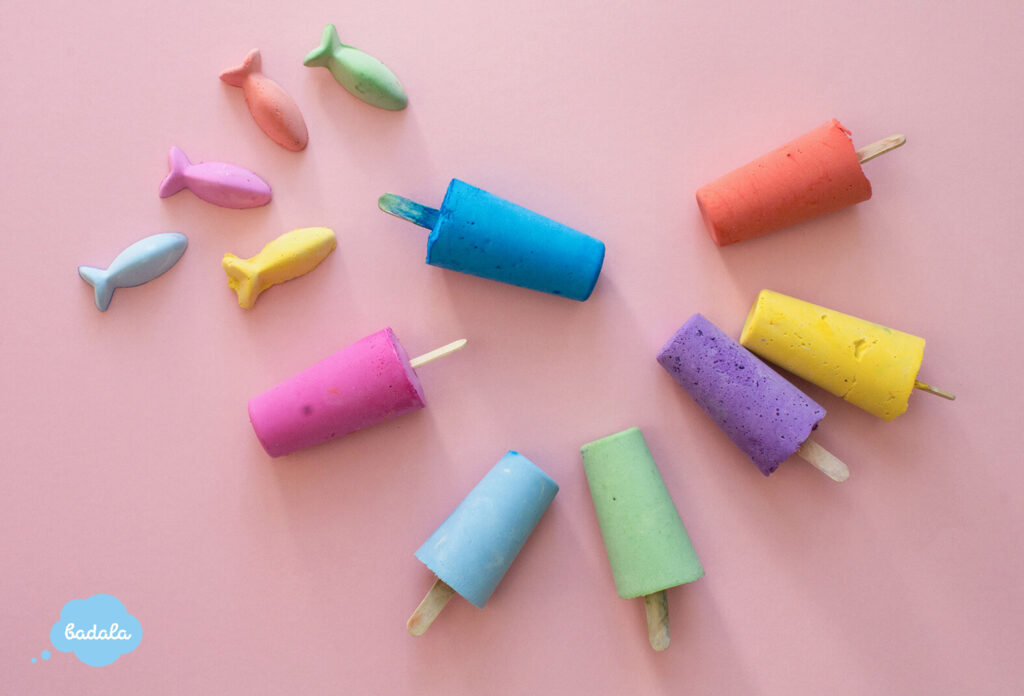 Your family BADALA wishes you good luck!
www.badalasticker.com
Remark:
Plaster clogs the pipes, please wash off only small amounts, such as the remains of spoons. Even if it looks verybeautiful, chalk is not suitable for consumption.
DIY pavement chalk
With spring rapidly approaching our children need to be entertained on these longer, warm days. We prepared some chalks, which are great for extended drawing sessions in the drive or park as well as fabulous party favours or games for birthday parties.
The beauty of these chalks is that you can choose your colours and we know exactly what goes into them. And let's not forget they look awesome, too.
The chalks are easy to make but quite messy, please use old newspaper or a tarp to cover your floor. As our business is built on sustainability we normally would not use single use plastic cups, but as we had them lurking at the back of our cupboard we decided to use them.
Please note: plaster of Paris clogs pipes, so refrain from putting it down the drain. It is ok to wash the residue off spoons though.
Also, as nice and tempting as they might look, chalk is not edible.
You need
- Ready mix paint
- Plaster of Paris powder
- cold water
- Measuring cups
- spoons
- cups
- Silicones moulds
- Lollipop sticks
- scissors
instructions
Add two tablespoons of paint in your chosen colour to each cup. Add 1/3 of a cup of cold water to each cup and stir well. Add 2/3 of a cup of plaster of Paris to each cup and stir. You are looking for a consistency of runny yoghurt. If it feels too runny, add more plaster of Paris. Fill the mixture into your moles, cut the lollipop sticks in half and place one half in each mole. This is your inbuilt little handle. Let it dry. It will take 24 hours to fully dry.
Enjoy creating your outdoor masterpiece!
www.badalasticker.com